About Me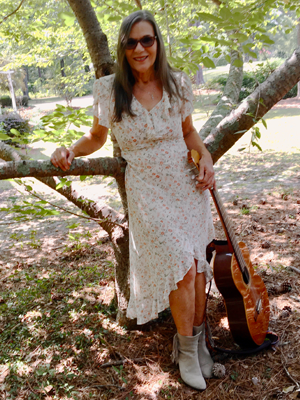 I am the owner of the Classic Clef Studio of Guitar in Lexington, South Carolina. In the early 1990s, I returned to the University of SC to study classical guitar under the guidance of Christopher Berg, nationally known guitarist and lutist, who directs USC's classical guitar program. In 1994, shortly after receiving a Bachelors of Music degree from USC with emphasis in classical guitar performance, I opened the first studio in the Midlands area of South Carolina dedicated exclusively to the study of guitar as a fine arts instrument. I provide individual instruction, guitar workshops and master classes, and I am also available to perform in concerts, corporate events, parties and weddings.
Some Background
In 1998, I began expressing my love of music in the medium of painting. This was a new addition to The Classic Clef, Studio of Guitar and, eventually, my studio was filled with creative ideas expressed with a paintbrush. I am a self taught artist. I have several mentors, Michel NcNinch, and Marjorie Ross. They are regional known artists and have given me full support and encouragement concerning my artwork. I have received awards, and have exhibited in numerous art exhibitions, galleries, and museums, including placing in Folly Beach 6th Annual art Exhibit, and the 2004 Moja Arts Festival in Charleston S. C. I have also exhibited at the Anderson County Art Museum, Hofp Gallery located in Columbia, S. C., M. Gallery in Lexington, S. C. My artwork, and CD can also be located at Jamestown Coffeehouse, Lexington, and Haven's Gallery, Columbia. I have served on the Board of Directors for the prestigious SOUTH CAROLINA WATERMEDIA SOCIETY. I was featured as the cover artist for SOUNDBOARD MAGAZINE, the publication for the Guitar Foundation of America. The piece on the cover was Guitars In The Palmettos, from the Guitar Series. Currently, one of my pieces, "The Ocean Course," can be purchased not only through my website, but also in shops and galleries around Kiawah Island, SC.
The February 2009 edition of Lake Murray Columbia magazine has a two-page feature in the Artbeat section profiling Bonita. The article includes photos of Bonita and her studio with images of Love's Dawning, She Shore, Pathway of the Past and Beebop 5.
Lexington Life Magazine features Bonita and other local artists in their February 2008 issue spotlighting the fine art community of Lexington, SC. The article includes an interview with Bonita along with images of three of her originals including Ciudad de Guitarra, Atlantic Coast Despatch and Guitars in the Palmetto.
The works comprising the Guitar Series was inspired by my love and passion for classical guitar music. While each painting remains true to the central theme of classical guitar as the focal point of the work, each piece has its own variation of this theme from the idyllic and romantic "La Ciudad de Guitarras," the mysterious "Sheer Whimsy" to the light-hearted "Jungle Music." My intense love of the South Carolina sea shore and its palmettos are depicted in pieces such as "Guitar in the Palmettos," "Nautical Eclipse" and "Peace Like a River."
Everyday I draw inspiration for my music and art from my beautiful family, and friends. I love you!